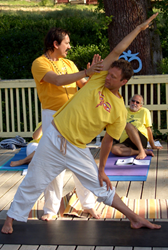 Los Angeles, CA (PRWEB) April 23, 2014
The weekend Meditation retreat in Grass Valley, CA, will introduce students to the basic guidelines for classical yogic meditation. For more information, please visit http://www.sivanandayogafarm.org.
This course is ideal for beginners in meditation. This course is designed for those curious about meditation.
Participants will practice yoga postures, Yoga breathing and meditation twice per day, participate in daily Kirtan chanting sessions, enjoy 2 delicious organic, vegetarian meals, and learn about the specifics of meditation from an experienced meditation teacher.
This meditation course is the only one of its kind in Northern California, based on the traditional methods of Classical Yoga meditation from ancient India.
Benefits of meditation include:

Increased focus and concentration

Lowers blood pressure, naturally

Balances both right and left hemispheres of the brain

Natural energy boost

Increased problem solving ability

Heightened awareness throughout your day

Inner peace and tranquility

Balanced mind and emotions

Increased sense of joy and happiness

Sivananda Yoga Meditation has been shown to help people through difficult times, by teaching awareness, relaxation and concentration, bringing presence of mind into our every action and endeavor.
This meditation retreat will guide students through the following topics:

the mind and how it works
how to manage the emotions
improving concentration
using mantras
guidance on healthy lifestyle
The Yoga and meditation retreat participants will study the basic yoga psychology from Patanjali Yoga Sutras, and learn how to manage your mind effectively to reach your optimum health and wellbeing and attain success in Life and Self-realization!
The Yoga Farm also hosts a Yoga Nidra course, courses on Yogic philosophy, Yoga for back pain and ayurvedic retreats, and an advanced teacher's training course (ATTC). The Advanced Yoga Teacher's Training Course helps graduates to deepen their spiritual practice and their study of Hatha yoga, Vedanta philosophy, Raja yoga, anatomy and Sanskrit. The advanced class gives students an additional chance to practice under guidance in a supportive atmosphere, which provides many with a boost of energy and clarity.
About Sivananda Ashram Yoga Farm
In 1971, Swami Vishnudevananda returned to California and founded the third ashram in the young Sivananda International organization: the Sivananda Ashram Yoga Farm on 40 acres of land located in the Gold Country of the beautiful Sierra Nevada Foothills in Northern California. The non-profit, non-sectarian ashram offers yoga classes, retreats and teacher training courses for students of all abilities. For more information, please visit sivanandayogafarm.org
Find More Guided Meditation Press Releases